Hello 🙂
I'm gonna be a speaker for the event Geek Girls Carrots London reactivation with Ember JS and Business Development! organised by Geek Girls Carrots London.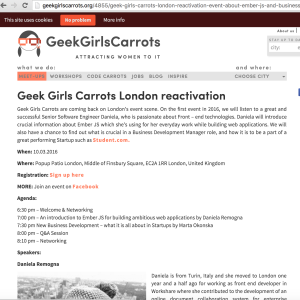 You can register via Event Brite here.
This is the meetup and Facebook page.
Event agenda
6:30 pm – Welcome & Networking
7:00 pm – An introduction to Ember JS for building ambitious web applications by Daniela Remogna
7:30 pm New Business Development – what it is all about in Startups by Marta Okonska
8:00 pm – Q&A Session
8:10 pm -Networking
See you soon!
WHEN
Thursday, March 10, 2016 from 6:30 PM to 8:30 PM (GMT)
WHERE
Popup Patio – Finsbury Square London EC2A1RR GB