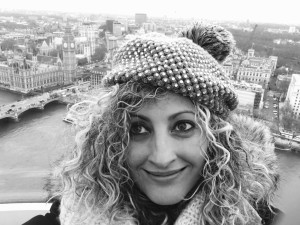 Who am I?
I'm an engineer, then a woman, this implies that by default I love to understand how stuff work and the first thought that pops out in my mind when I wake up is: "there is an algorithm to solve everything". I'm ambitious, goal oriented and I like to work on complex projects.
Hello! I'm Daniela, I come from Turin a city located on the Northern of Italy and now I live in London (UK).
I got a master degree in Computer Science at the Polytechnic of Turin (Italy) with full marks and I've a true passion for the WEB technologies and engineering. I love writing code with Javascript, AngularJS, BackboneJS, NodeJs, Ember and with everything sounds awesome! Someone defines me an Hacker, but I prefer to say that I just know some basic concepts about networking and security. ^^
I like to solve the rubik's cube, this object is a lucky charm for myself, every time I have to address a change or to do something difficult, I pick up my cube and I solve it.
In my leisure time I play chess, I do decoupage, I pick up mushrooms in the woods. I love the nature, its colours, plants, flowers and animals.
I love the mountain as well, during the winter I'm a snowboarder instead in the other seasons I'm a runner and a bike rider.
I really like cooking and having dinner with friends. In this occassions is mandatory drinking a good wine and every detail is precious, so it's important set the table with hand-made decorations.
Cooking is a good way to release stress and to stimulate the creativity.
Socials
Linked In: https://www.linkedin.com/in/fimietta
Twitter: @fimietta
NodeGirls London
I am a member of NodeGirls London where they are organizing free Node.js bootcamps for women in London.
Meetup
I am a member and I regularly attend to the events of:
-